Temples of Chance:
How America Incorporated
bought out Murder Incorporated
to gain control of the casino industry
by David Johnston
GRADE: B+
---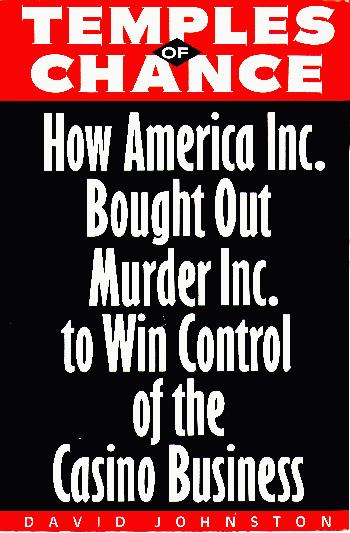 ---
While this book does not deal directly with the subject of Blackjack, it IS casino-related and makes for fascinating reading. I read the book in two intense, suspense-filled sittings, one rainy weekend.

David Johnston, an investigative reporter (and at the time of this book), Atlantic City bureau chief for the Philadelphia Inquirer, has out done himself with Temples of Chance... Although the book jumps around a little too much for my liking, and seems to have ignored some prominent events that happened in Atlantic City around the time of other events in the book, overall, David has written a rivetting story about how corruption in the casino business has quietly changed hands from Murder Inc. (the alleged mafia) to America Inc. (Fortune 500-type Companies).
Essentially, this book is a series of fascinating tales describing how nothing has REALLY changed over the last 40-something years in the casino business. The events described in the book weave in and out of the correlative happenings at the Stardust Hotel on the Vegas Strip (the casino hotel which the movie Casino was about). While this book will not assist you towards improving your Blackjack game, it WILL give you some insight into why casino operations are the way they are in many cases; especially when it comes to Atlantic City.

You are probabnly aware of the impact Kenny Uston's lawsuit against Resorts International has had on the game of Blackjack; beginning in Atlantic City and eventually filtering west. Around the time the New Jersey state law changed (Sept. 15, 1982) forbidding the barring of skilled players, casino hotels were being built and openning at a furious pace. During this period, casinos were springing up on the Boardwalk (and failing) akin to a infestation of dandelions on your prized lawn.
Johnston's fascinating character studies are reminiscent of a Damon Runyon story; but of the business world and organized crime instead. We are treated to stories about people like Akio Kashiwagi, an alleged member of the Japanese Yakuza, one of the BIGgest whales to have beached in Atlantic City. Woven into a fascinating tale of casinos doing virtually anything (legal or otherwise) to gaff this whale, and feast on its greenback innards, we are introduced to Donald Trump, the casino owner who hates to gamble, because he might actually lose. Later in the book we watch as Trump becomes a prominent force in Atlantic City gambling, but not before flouting the law, manipulating friends and colleagues (including his then wife Ivana) and even making use of underworld-controlled companies to complete his hotel projects "on time" and "under budget" (easy - over-inflate BOTH estimates by about 40%).
Trump's story serves as a backdrop to showcase other big players in the gambling business and THEIR flouting of the NJ gaming laws, all, as is explained by Johnston, with direct or indirect approval of the Casino Control Commission; indirect in that they have freqeuntly chosen to look the other way; especially if enforcing the law would deny a favorite corporate entity from operating a casino in New Jersey (who's winnings pump up the state's gambling-tax coffers)
Johnston profiles a number of prominent players in the gambling business; including: Benny Binion, Bill Harrah, the eccentric Mitzi Briggs who once owned the Vegas Tropicana, Steve Wynn, Donald Trump, Merv Griffin, and indirectly, Mike Miliken, the Junk Bond King . We are treated to detailed accounts relating how well-known corporate entities such as: Holiday Inn, Ramada, Hilton, Playboy, Prat Hotel Corp., Golden Nugget, Caesars Palace & Ballys have made and lost HUGE fortunes speculating in the casino-hotel business. Because many of the "loser" corporations described in his book are (or are soon to be) back in business in Atlantic City, it would be fascinating to see a new book: Temples of Chance - II, or at LEAST a revision to this book; considering that it was published in 1992.
In addition to stories detailing the growth of the casino industry, David Johnston segues to other fascinating tales. You may have never heard of Farayala Jana prior to reading the chapter detailing how Colombian (Medellin) drug money flowed in and out of Atlantic city, with the assistance of the Sands Hotel. However, the story will not be all that unfamiliar to you, when you think back to the mid 80's and all the reports of goings-on regarding the Medellin' Cartel.
Then again, this story pales in comparison to the accounts of how Mike Miliken's junk bonds built Atlantic City (as well as the Mirage in Las Vegas), at the expense of the investors (often senior-citizens investing their pension money, looking for a significant return before those pensions, or their lives, run out). I lost count of the stories in which he describes Hotel-casino owners (Trump, Griffin, et. al) one day saying to investors, in effect, "Ooops - sorry sukka! we can't pay you back. Oh well....."
This book is ALSO about the double-standards imposed by the Casino Control Commission; how for example, they enforce the "strict gaming regulations", by harrassing dealers and cocktail waitresses for questionable minor violations of the Casino Control Act, while looking the other way when illegal loans are knowingly made to a controlling corporation, table-game rules are flagrantly violated (the commission even is on record as having lied to protect casino interests, to avoid having to fine and/or close down said casinos for these violations) and underage "kids" are knowingly extended credit and comped for their gambling play, then chaufered home to beat the under-18 curfew; violations, that you and I could go to jail for.
It has been said that the truth is stranger than fiction. This could not be more evident than in Temples of Chance. In my mind, this book is recommend reading; not only to see how "the other half lives", but to instill in you a sense of AWE with the regard to not JUST the gambling industry, but with big business in general and what they get away with because they possess a ton money (and you don't). However, nowhere do we see the kinds of flagrant violations of the law which compare with those found in the casino industry.
In summary, David Johnston illustrates how nothing has REALLY changed in the gambling business. The lying, cheating, stealing and sleaze of the alleged-mafia is now dressed in a new suit of clothes, but is otherwise essentially no different than it was before; except that nobody (that we known of) is "snuffed out" when disagreements are encountered. Overall, I think you will find the book fascinating reading.
While 6 years old, the information in Temples of Chance is nevertheless still quite timely. If you are like me, this will be a book that you come back to every few months when you are looking for some carefree, recreational reading that is at once instructive and informative as well.
---
Back to the Reviews Page ----- Back to the Home Page
---
If you have questions or comments about the above review, e-mail me at: BorisBJ21@Earthlink.Net.